Distinguished climate scientists, policymakers, and practitioners participated in a major national conference on climate science and climate change right here at UC Santa Cruz on Friday, February 26 and Saturday, February 27, 2016. Presented by the divisions of Social Sciences and Physical and Biological Sciences, the theme of the third annual climate science & policy conference was "Earth's Climate Future: Uncharted Territory." The three panels focused on public health, geoengineering, and geopolitics.
The opening keynote address was given by Ken Caldeira, a world renowned climate scientist working for the Carnegie Institution for Science, Department of Global Ecology at Stanford University. He investigates issues related to the global carbon cycle, marine biogeochemistry, climate intervention, and energy technology.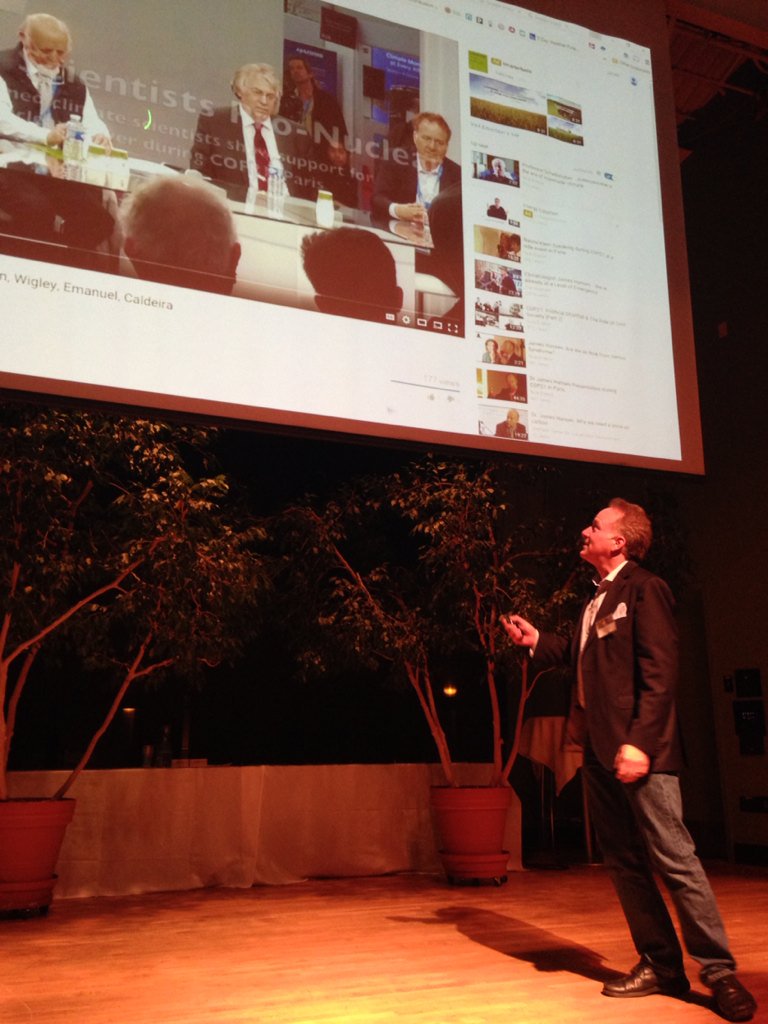 Ken Caldera during his opening keynote
photo courtesy of UCSC Social Sciences
The first panel, "Emerging Disease, Public Health, and Climate Change," discussed the potential links between public health, disease, and climate change. Marm Kilpatrick, Associate Professor of Ecology & Evolutionary Biology at UCSC, affirmed that climate change might play a role in the transmission of diseases. However, he and other panelists stressed that the relationship between climate change and disease is difficult to predict. Much is still unknown. Policy-wise, Mercedes Pascual of University of Chicago said we must act with this uncertainty in mind by advocating for better surveillance and intervention globally. Daniel Brooks of University of Nebraska emphasized this point stating, "An ounce of prevention is worth a pound of cure."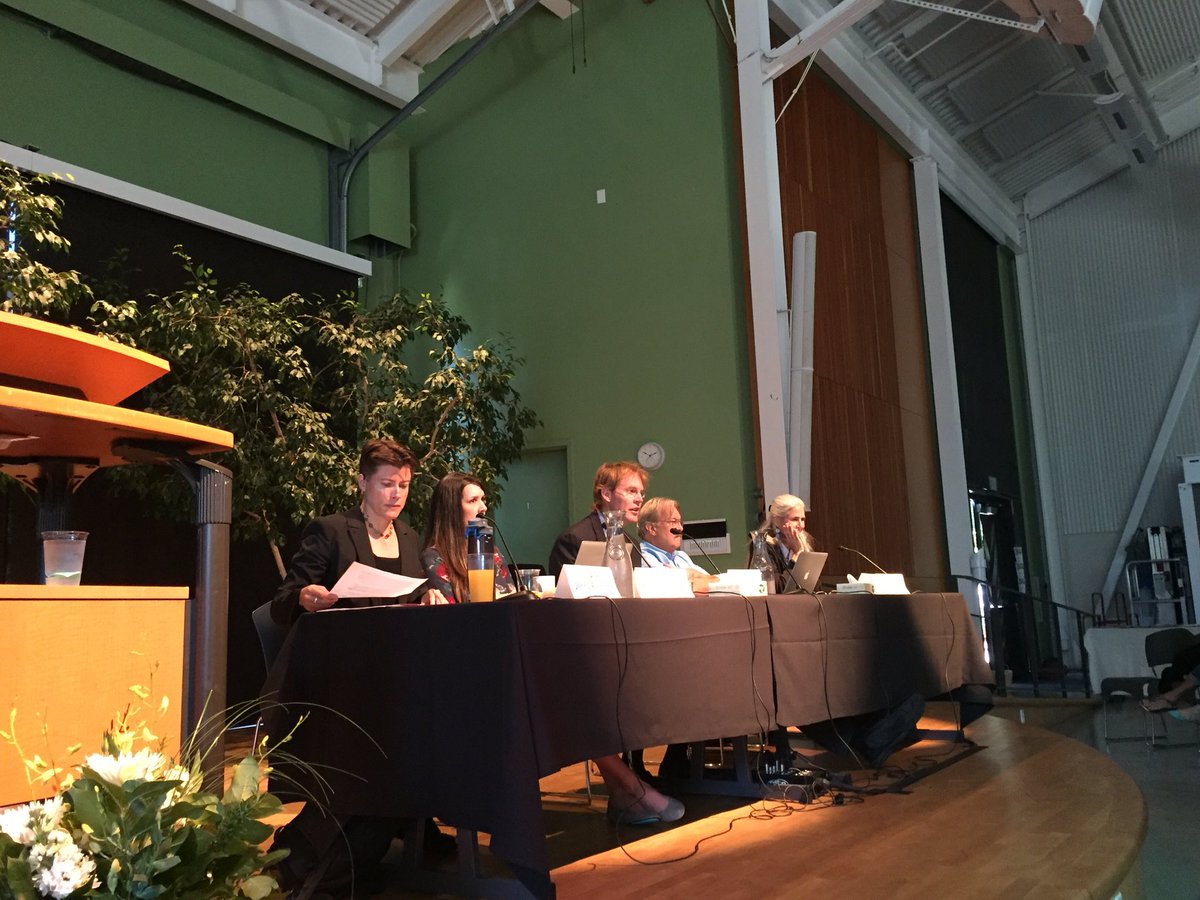 "Emerging Disease, Public Health, and Climate Change" Panel
photo courtesy of UCSC Social Sciences
The second panel, "Geoengineering and Climate Change" discussed the ethics of geoengineering, the social, political, and economic issues, and the possibility of implementing it as a policy. Most of the panelists were skeptical of geoengineering, arguing that more research needed to be done before anything close to implementation could be considered. However, all agreed that an international governance must be implemented with an emphasis on transparency if geoengineering was ever implemented large-scale. Jeffrey Kiehl of the National Center for Atmospheric Research raised a compelling point, stating that instead of looking for quick solutions (such as altering the environment, geoengineering), we must face the real problem of dependence on fossil fuels and the resulting greenhouse gas and carbon dioxide emissions.
The third panel, "The Geopolitics of Climate Change" addressed the social and political issues revolving around climate change. Jaqueline Patterson of the NAACP Climate Gap Initiative highlighted the fact that low-income people of color are far more likely than wealthier white families to live next to toxic facilities. Also, these areas are already weakened by food insecurities and low numbers of health insurance carriers. She called for more regenerative, cooperative policies that uplift communities instead of extractive, unsustainable policies that represent only the interests of corporations. Diana Liverman of University of Arizone agreed, stating that "Those who are most vulnerable are usually least responsible." Liverman spoke on the concept of adaptation, the idea of helping people and other species survive in a warmer world through payments and allocations.
Chancellor George Blumenthal introduced Steven Chu, former U.S. secretary of energy and winner of the 1997 Nobel Prize in Physics, who spoke on "Climate Change and a Low-Cost Path to Sustainable Energy" at the Fred Keeley Lecture, the conclusion to the two day conference. Chu served as secretary of energy under President Obama from 2009 to 2013. He spoke about the increase in carbon activity as an effect of human activity, and what must be done to lower it such as producing more energy from renewable sources, carbon dioxide capture and sequestration, and using fuels with lower carbon contents.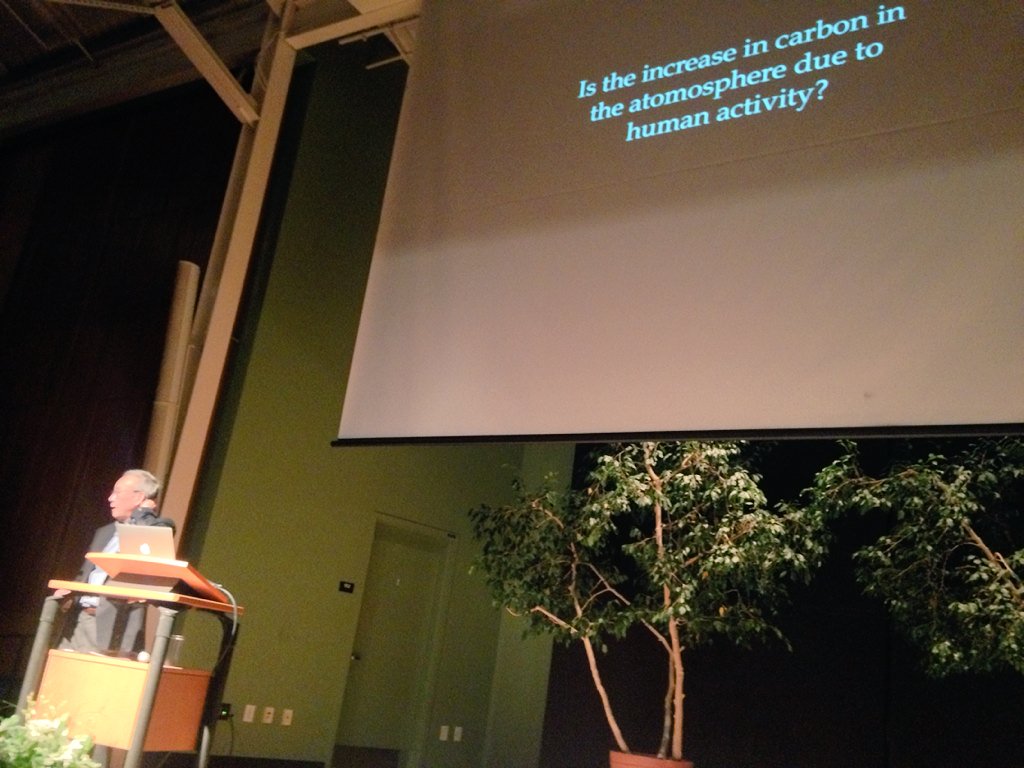 Steven Chu during the Fred Keeley Lecture
photo courtesy of UCSC Social Sciences
The conference provided attendees with plenty of information, perspectives, and thoughts about the challenges we face as a planet. Our task now is to take action and create solutions for a sustainable, just, and thriving future.
Click
here
for more useful links.
Join the discussion and check out the live tweets that Education & Outreach Associate Preethi Ruvva tweeted during the conference
here
!